The Joe Nuxhall Memorial Honorary Star of the Game
Stop me if you've heard this one before. The JNMHSofG was Joey Votto. He raised his batting average this spring to .391 while contributing four hits (including a home run), two runs, and two RBI. Oh yeah, one of those hits was a lead off double in the bottom of the ninth, and a pinch runner would score the game winning run in his place. What else is there to say about Votto at this point? He looks poised for another incredible season, and it's simply a joy to get to watch him play baseball.
He definitely appears to be enjoying himself this spring.
Joey gonna Joey. #LateNightReds☕️ #RedsST ⚾️ pic.twitter.com/v1rUB1bjwJ

— Cincinnati Reds (@Reds) March 29, 2016
Key Plays
Throwing twelve straight balls is likely not how Robert Stephenson wanted to start this game. However, it is exactly how he started this game. With the bases loaded Stephenson battled back to strikeout Kirk Nieuwenhuis. Next he induced an Alex Presley ground out, but Ramon Flores was still able to score. Martin Maldonado then drove in Colin Walsh and Scooter Gennett with a single into left (Brewers 3 - Reds 0).

The Reds quickly responded in the bottom of the first. Eugenio Suarez doubled, and then scored on a Joey Votto single. Brandon Phillips kept the good times rolling with a double to get runners on second and third. A Devin Mesoraco single drove in both runs, and surprisingly the game was already tied (Reds 3 - Brewers 3).

The Reds took the lead in bottom of the 2nd when Joseph Daniel Votto deposited a solo home run into left center field. It was his third home run of the spring. I love that guy (Reds 4 - Brewers 3).

The offensive back and forth continued in the top of the third. Robert Stephenson was still pitching, and he began the inning by retiring Colin Walsh. However, the next three batters resulted in a walk, single, and walk to load the bases for the second time in three innings. Thankfully Martin Maldonado hit a ground ball to the pitcher. Unfortunately Stephenson threw the ball away. Two runs came across on the error (Brewers 5 - Reds 4).

Things finally quieted down until the 8th inning. The Brewers expanded their lead when Manny Pina tripled following an Alex Presley walk. Pina would score during the next at bat thanks to a Keon Broxton sac fly (Brewers 7 - Reds 4).

Hopes that the Reds could keep their winning streak alive were fading quickly, BUT CINCINNATI WOULD NOT GO GENTLE INTO THAT GOOD NIGHT. With two outs all hope seemed lost. But what is this? A Zack Cozart walk, Tyler Holt single, and Tony Renda single loaded the bases. Who else would you want at the plate in this situation other than Juan Duran? Duran hit a first pitch single into center scoring Cozart and Holt. Billy Hamilton kept the good times going with a single of his own to score Renda and Duran (Reds 8 - Brewers 7).

Things got interesting in the 9th. With two outs Colin Walsh walked, and Jake Elmore reached on a fielding error. Pedro Villarreal recovered, and let everyone get to bed by shutting it down! Eric Young Jr. singled on the first pitch that he saw...and we are tied again (Brewers 8 - Reds 8).
The one man wrecking crew Joey Votto was unfazed by these developments. He led off the 9th with a double, and then he advanced to third on a wild pitch. A Brandon Phillips single drove home Votto (Pinch Runner: Jonathan Reynoso), and that's four wins in a row (Reds 9 - Brewers 8)!
I Could Watch This All Day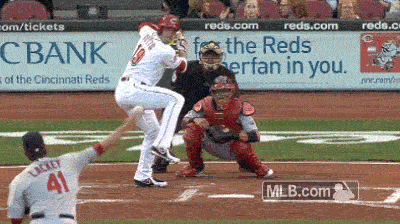 I Said I Could Watch This


Other Notes
The Reds and Brewers will do it again tomorrow at 4:05 EST. You can watch the game on MLB TV and WLW will have the broadcast.

Robert Stephenson's final line for the night was: 3 IP, 2 H, 5 R, 5 BB, and 4 SO. That's a lot of walks.

In case you missed it Raisel Iglesias will now get the opening day start for Cincinnati. Anthony DeSclafani has suffered an oblique strain that will keep him out until at least April 10th.