Fast Facts
Brandon Kyle Finnegan was born April 14, 1993 in Fort Worth, Texas.
Position: Pitcher
Bats: Left, Throws: Left
Height: 5' 11", Weight: 185 lb.
Finnegan attended high school at Southwest High School in the Fort Worth area. Upon graduation in 2011, Finnegan was drafted in the late rounds by the hometown Texas Rangers, but Finnegan declined to sign and attended Texas Christian University.
The Royals drafted Finnegan in the first round of the 2014 draft, fresh off a performance in the College World Series. In his junior and final year at TCU, Finnegan was named to several All-American teams, including NCBWA and Rawlings/ABCA 2nd team All-American and Louisville Slugger/Baseball America/Perfect Game 3rd team All-American. He was also named 1st Team All-Big 12.
TCU was eventually bounced from the CWS by the Virginia Cavaliers, but it wasn't because of Brandon Finnegan. In his one game against the Cavs, Finnegan went eight innings, allowing only two runs (one earned) in eight innings of work. The Horned Frogs would ultimately be defeated in 15 innings.
I guess the most interesting fact about Finnegan is that he's the only player to pitch in both the College World Series and the MLB World Series in the same year at the ripe young age of 21 years old. Earlier in the 2014 postseason, he became the youngest Royals reliever to enter a postseason game and record a pitcher win, which is simultaneously kinda cool and totally unimportant.
Finnegan was the name in the trade that sent Johnny Cueto to the eventual World Series champion Royals, though I think the general consensus is that Cody Reed will end up being the real get for the Reds.
Organizational Information
Drafted by the Kansas City Royals in the 1st round (17th pick) of the 2014 amateur draft.
Signed June 28, 2014
Debut: September 6, 2014 (Age 21.145, 18,385th in MLB history) vs. NYY 2.0 IP, 0 H, 2 SO, 0 BB, 0 ER
Rookie Status: Exceeded rookie limits during 2015 season
Teams (by GP): Royals/Reds 2014-2015
2016 Contract Status: Pre-Arb Eligible (details) 
Service Time (01/2016): 0.107, Arb Eligible: 2019, Free Agent: 2022
Transactions*
July 26, 2015: Traded by the Kansas City Royals with Cody Reed (minors) and John Lamb to the Cincinnati Reds for Johnny Cueto and cash
*Another deal you may have heard about
Career Stats
Scouting Report
Finnegan isn't technically a prospect, as he was used in both of the previous seasons as a bullpen arm, first for the Royals down the stretch in their first World Series appearance, and then again for the Royals before being sent to the Reds. In all, he's got 55 MLB IP.
But, he used to be a prospect, and a highly touted one at that. Let's take a look at his blurbs from the pre-2015 prospect lists:
Strengths: Strong three-pitch mix led by low- to mid-90s fastball with some late explosion; can pound the quadrants with the heater, reaching as high as 96/97 mph in short stints; low-80s slider can flash plus with sharp break and good deception off the fastball trajectory; changeup is solid average offering with some tumble; solid feel across the arsenal; aggressive demeanor on mound; attacks hitters with fastball and slider; comfortable working across the zone and out of it; sturdy build; repeats well.

Weaknesses: Non-traditional starter height; fastball lacks plane and become hittable when velo dips; showed clear step down in stuff and effectiveness second and third time through order as starter; missed time in spring due to shoulder stiffness; throws with fair amount of effort; arm drag starts to show later in starts, pushing fastball up and out and causing decrease in slider utility.
And, well, I expected there to be more, but I apparently can't access BA's or MLB.com's, so we'll just pretend that it says good things about him, yeah?
Keep in mind, this was written before Finnegan had gotten any real time to start, as the Royals constantly shuffled him back and forth between the minors and their bullpen. Now that Finnegan has been given a little more time (and a permanently defined role), hopefully the results will match the stuff.
Otherwise, he may be the eventual heir apparent to dearly departed Aroldis Chapman.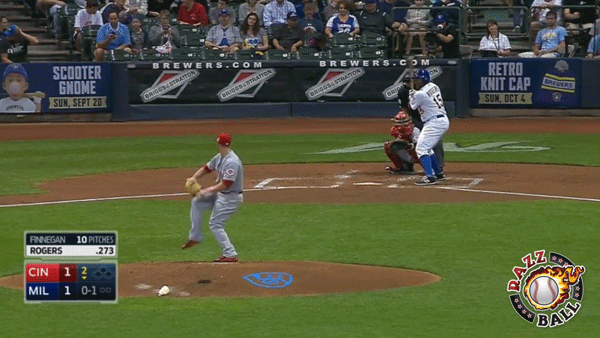 (h/t Razzball)
For more gifs of Finnegan's pitches (and everyone else's for that matter), head on over to PitcherList.
2016 Projections
| | | | | | | | | |
| --- | --- | --- | --- | --- | --- | --- | --- | --- |
| | IP | ERA | FIP | WHIP | K/9 | BB/9 | HR/9 | WAR |
| Steamer | 122.0 | 3.65 | 3.84 | 1.30 | 9.08 | 3.95 | 0.90 | 1.4 |
| Zips | 90.3 | 3.79 | 4.00 | 1.27 | 9.07 | 3.39 | 1.10 | 1.0 |
Outlook
News broke Tuesday that Michael Lorenzen's sore elbow was more than just a bit of tenderness, when an MRI revealed that the second year outfielder-turned reliever-turned starter had a sprained UCL. This was big news for Brandon Finnegan.
Before this, Finnegan was certainly square in the running for making the rotation on Opening Day, but the news of Lorenzen missing the beginning of the season could lock Brandon into the number three spot in this rotation. There's a non-zero chance that Finnegan could be the Game Two starter, making his 2016 debut in front of all you rowdy Red Reporters.
The Reds rotation is going to be extremely fluid throughout 2016, and really the only issue with Brandon Finnegan beginning his 2016 on April 6th is that he almost certainly will not make it many innings past August 6th. In 2015, Finnegan logged around 104 innings over three levels and four teams, and a lot of them were out of the bullpen.
As you can see above, the projections aren't bullish on Finnegan upping that total dramatically in 2016. There are a number of different ways that the Reds can limit Finnegan's innings throughout the season, but as with almost everyone in this rotation, they're going to have to get creative.
There's also the worries that Finnegan's build isn't particularly conducive to a workhorse starter load, sporting a frame more akin to Mike Leake than Johnny Cueto. That means he's not going to get by by being physically overwhelming, and supports the hypothesis that he's eventually a reliever: once the innings mount, the velocity drops and the pitches become imminently more hittable.
Then again, his repertoire is more polished than your typical reliever. He's not a Tony Cingrani, that gets by an a deceptive fastball and not much else. Finnegan's fastball is good, and he's not afraid to attack with a slider that, as you can see above, borders on filthy when he hones it. With a changeup that's legit enough to show batters, the stuff shows why the Reds are willing to take the time to make Finnegan a starter.
The K/9 numbers are drool worthy. The BB/9 numbers are less so. But the profile doesn't point to Finnegan being wild, meaning it's probably stamina issues. Whether or not that's something that'll be rectified by more work as a starter is TBD.
The numbers this spring aren't spectacular, but he's been perfectly fine in the games that he's pitched even if he's not been blowing people away. And, as many options that the Reds theoretically have at SP, they're running out of realistic ones. There's zero reason to start the clock on Robert Stephenson or Cody Reed's career, and even if they wanted to plug both of their top pitching prospects in from day one, Finnegan would likely STILL be plugged into the top five somewhere.
Luckily for the Reds, they've got a whole season to figure all of this out. And maybe they'll decide that Tim Melville, Tim Adelman, Tim Wakefield, or whomever is the arm they want to wear out, and Finnegan will spend a fair amount of time in Louisville. And that's okay! The whole idea of a rebuild is acquiring players and evaluating those players to figure out what you've really got, and who you need to punt.
I don't know if Finnegan's ready, but his stuff is intriguing. The Reds weren't scared to experiment with young pitchers in 2015, and it's likely they won't be in 2016. Finnegan is the leader in the clubhouse for the Michael Lorenzen track, for better or for worse.
To Finnegan's credit, he's never shied away from it. Let's swing it to Brandon Finnegan.
That'll do, Brandon.