Fast Facts
Zachary Warren Cozart was born on August 12, 1985 in Memphis, Tennesee. He did his amateur baseballing at Collierville HIgh School before choosing to go to the University of Mississippi for college ball.
Cozart was a three sport athlete in high school, earning local honors on the hardwood, but excelling especially on the diamonds. He was named All Freshman in year one, and added to those with All-SEC honors in his later years in college. He'd finish his college career with a .310/.367/.473 triple slash.
The Reds selected Cozart in the 2nd round of the 2007 draft and proceeded to basically become the Zack Cozart that we all know and love; that is, flash a good bat while being completely inconsistent with it (or worse, consistently bad for long periods of time) while manning the shortstop position effortlessly.
He earned his trip to the majors in 2011, but it was a short lived one. After only 11 games, Cozart injured his elbow and was out for the remainder of the season. He was a top 100 prospect heading into 2012, but he could never replicate the super hot bat that he flashed in those first 38 PAs. Over the next three season, Cozart wouldn't top the .687 OPS he'd finish his rookie season with.
Before last season, I wrote that the Reds might part ways with the 30 year old shortstop after 2015. Of course, Cozart responded to that by putting up the best consecutive 214 PAs of his career while still flashing elite leather at SS. That, of course, happened before that fateful day in June when Zack slipped off the bag while running and stepping on first base, tearing several ligaments in his knee.
In sum, this makes 2016 the biggest year yet for Zack Cozart.
Organizational Information
Drafted by the Cincinnati Reds in the 2nd round of the 2007 amateur draft.
Signed June 21, 2007. 
Debut: July 7, 2011 (Age 25.329, 17,608th in MLB history) vs. MIL 3 AB, 1 H, 0 HR, 0 RBI, 0 SB
Rookie Status: Exceeded rookie limits during 2012 season
Team: Reds 2011-2015
2016 Contract Status: Signed thru 2016, 1 yr/$2.93M (16) 
Service Time (01/2016): 4.084, Arb Eligible: 2017, Free Agent: 2018, Agents: Excel Sports Management
Transactions
June 7, 2007: Drafted by the Cincinnati Reds in the 2nd round of the 2007 amateur draft. Player signed June 21, 2007.
Career Stats
Scouting Report
Last year, we got a bunch of this: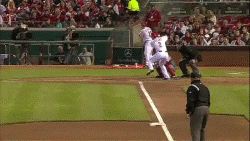 But usually, we get a lot more of this:
2016 Projections
| | | | | | | | | |
| --- | --- | --- | --- | --- | --- | --- | --- | --- |
| | PA | HR | R | RBI | SB | AVG/OBP/SLG | DEF | WAR |
| Steamer | 474 | 10 | 43 | 46 | 5 | .245/.290/.373 | 10.0 | 1.3 |
| Zips | 426 | 9 | 49 | 42 | 4 | .247/.287/.379 | 9.7 | 1.2 |


Obviously, the projection systems aren't really big on Zack Cozart coming off the injury. I don't blame them, and Fangraphs wasn't as big on Cozarts 2015 as other places were (namely, BB-Ref, which assigned a 2.0 bWAR to a 1.3 fWAR).
A knee injury for a 30 year old shortstop who relies on his defense to provide most of his value isn't optimal, but in the very, very small sample that we have in spring training is that Cozart's still swinging a decent bat, and swinging it with power. Cozart's apparently feeling well, but apparently has also been swinging for a month and a half.
Defense
via Fangraphs
Instincts: 70
First Step: 70
Speed: 61
Hands: 75
Release: 81
Arm Strength: 84
Arm Accuracy: 75
Overall: 71
This:
(H/T Redleg Nation)
I think the Fan's report is, well, not great on Cozart's defense. He's been elite in almost every inning he's manned SS for the Cincinnati Reds, and I think a lot of these rankings are a little low.
Then again, we don't know what we're gonna get from Cozart in 2016 (though, these numbers don't have any bearing in that).
Outlook
I'll hand it over to Mike Podhorzer, charged with writing Zack Cozart's fantasy baseball blurb that currently appears at the top of Cozart's player page at Fangraphs:
After contributing little to fantasy teams heading into 2015, Cozart enjoyed a breakout over about a third of a season, before busting up his knee that required season-ending surgery. His isolated slugging rate jumped above .200 and home run to fly ball rate moved into the double digits, both for the first time, while his walk rate inched up to a career high and his strikeout rate fell to a career low. His batted ball distance surged, validating his power spike, while his power related metrics, specifically his fly ball and pull rates, both reached new heights. All of these metrics support the increased power, though how his performance is going to be affected following major surgery is anyone's guess.
Anyone's guess, indeed, Mike.
This is where I'll remind everyone of a point that I learned about Cozart's 2015 in Baseball Prospectus's 2016 primer: at the time of his injury, Cozart's .201 ISO (by far a career best), came in 5 points higher than those of Andrew McCutchen and Miguel Cabrera.
That is to say we shouldn't underappreciate how good Good Zack Cozart was in the brief time that we got to see it.
There's almost no chance he was going to keep that pace alive in 2015 and there's even less of a chance he'll return to such a lofty expectation in 2016. Hell, at this point, we're not even sure if Zack Cozart will be as good as what he was once so previously so reliably fantastic: shortstop defense.
Being a 30+ year old shortstop isn't a fact of life that lends itself to longevity in its own right. Being a 30+ year old shortstop that has derived 95% of his value from defense who's coming off major knee reconstruction, is, well, less than inspiring.
To say the least.
That's not to say everything is doom and gloom. The future of Zack Cozart is as unknown as it's ever been. His 2015 is small enough to cast serious doubt, but it's big enough for a promising player who's never had a sample that's that good for that long. There's a chance, a non-insignificant chance, that Cozart has figured something out. That he's seen something (or is seeing something) differently; a fully fledged new approach that will impart credence to a bat that's potential has always deserved it.
The knee's the thing and it will always be the thing until when-and-if Cozart and, more importantly, his body proves it's not.
Then again, if that "when" ever comes, there's a real possibility that Zack won't finish the season in Cincinnati Reds red. A shortstop who comes cheap with arbitration eligibility as a guy who's been all defense while flashing a bat will be a semi-valuable commodity. Hell, the buyers might be the birds on the bat.
But first, Zack has to prove that he's healthy. For Cozart, it's literally one step at a time.