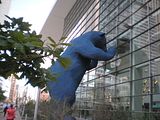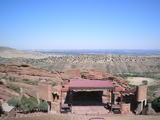 You all know the Rockies Story; they took the baseball world by storm and won 14 out of their last 15 games to clinch the NL Wild Card in 2007.   The Rockies followed that up with a disappointing 74-88 (which matched their Pythagorean record) record in 2008.  The Rockies were a fluke in 2007 and in some ways give (false) hope to teams such as Cincinnati.  We all remember Bob Castilini's speech after he bought the Reds which included something to the effect of small market teams usually need luck to succeed.   Teams such as a the Rockies which won as a fluke give credence to such thoughts, and teams say "Look at the 2007 Rockies they weren't expected to win, and they did, so we shouldn't try to make smart decisions, instead we should just hope for a whole bunch of mediocrity to put together career years".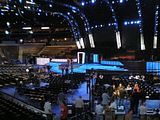 As many of you know I am an expert on the Rockies because I attended a game at Coors Field and went to the DNCC last August.  Seeing Barack at Invesco makes me an expert on the Rockies.
Me gaining my expertise: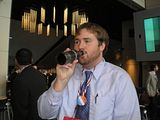 Colorado biggest off season loss was Matt Holliday, but he may be replacable.  He was a force in their lineup.  Let us take a look at the rest of their expected 2009 starting lineup.  (Thanks to Purple Row's head mod Russ for his projected lineup and rotation.)
Manager: Clint Hurdle-  Hurdle has been at Colorado's helm since early 2002.  He has managed 1113 games, all in Colorado, and has 516 wins and 597 loses.  2007 was the only time Colorado finished above third place under Hurdle's leadership. He put together a solid big league career, including a cup of coffee with the Reds in 1982.  He debuted for the Royals in 1977 at the age of 19.  He was the ultimate utility player, and played infield (including catcher), and outfield.  He only played in over 100 games twice.  But he had an OPS+ of 105 in 1391 at bats.  His career took at turn in 1982 and he was not the same hitter after that.
LINEUP (Career Numbers)
CF Ryan Spilborghs, (.302/.347/.466)
Spillbourgh is 29 years old, and debuted in 2005.  He drafted by the Rockies in the seventh round of the 2002 draft out of the University of California, Santa Barbara.  Spilborghs is a  decent leadoff hitter with a little some power.  He wouldn't fit in Dusty's world because he only stole seven bases last year, and on top of that was caught stealing four times.  So maybe his bad aggression would fit in Dusty's world.
* 2B Clint Barmes, (.263/.301/.468)
Barmes is 30 years old and he debuted in 2003, and he was eighth in the 2005 ROY voting.  He was drafted by the Rockies in the tenth round of the 2000 draft out of Indiana State University.  2008 proved to be a career year for him as he put a line of .290/.322/.468, all career highs, he also put up an OPS+ of 99, compared to his career OPS+ of 75 (Ouch).  I'll take Brandon Phillips 
1B Todd Helton, (.328/.428/.574)
Helton is 35 years old and he debuted in 1997.  The Rockies drafted Helton in the first round (eighth overall) of the 1995 draft out of the University of Tennessee.  Helton is definitely the face of the Rockies franchise and has played for the Rockies in all but four of their seasons.  Helton has was an All Star from 2000-2004, and won the silver slugger from 2000-2003.  He was second in the ROY vote in 1998 and received MVP votes in 5 seasons.
3B Garret Atkins, (.298/.360/.474)
Atkins is 29 years old and he debuted in 2003.  The Rockies drafted Atkins in fifth round of the 2000 draft out of high school.  He ended up in fourth place on the 2005 ROY ballot, and was in 15th place on the 2006 MVP ballot.  He has been durable over the last three years playing in 157, 157, and 155 games respectively.   
RF Brad Hawpe, (.282/.375/.493)
Hawpe is 29 years old and debuted in 2004.  The Rockies took him in the 11th round of the 2000 draft, which seems to have been a productive draft for Colorado, out of Louisiana State University.  He is another very able hitter, as he can hit for average, get on base, and hit for power.  His numbers are just a tick better than Atkins.
SS Troy Tulowitzki, (.276/.346/.435)
Tulo is just 24 years old and debuted in 2006 at the age of 21.  The Rockies drafted Tulo in the first round (seventh overall) of the 2005 draft out of the University of California Long Beach.  He was the runner up on the 2007 ROY ballot.  In the same year he turned an unassisted triple play, the 13th in MLB history, later that season he was also involved on the other side of a triple play.  Tulo missed a month and a half last year with a torn left quadriceps.  One can assume his numbers were depressed because of the injury. 
Prior to 2008 he signed a six year $31M contract, the largest given to a player with less than two years experience until Bruan received a larger contract later that year.  Tulowitzki is the kind of player a GM would want to build his team around, he is young a good defender, and an excellent hitter at a position in which offense is a plus, I guess the Reds were too busy drafting Jay Bruce that year.
C Chris Iannetta, (.249/.368/.440)
Iannetta is 25 years old and he debuted in 2006.  The Rockies selected Iannetta in the fourth round of the 2004 draft out of the University of North Carolina.  Iannetta is currently playing for Team America in the WBC.  He is a good hitting catcher with a low average, but he gets on base a lot.   2008 was a monster year for Iannetta as he hit .264/.390/.505 with an OPS+ of 127.  That is huge production to get from a catcher.
*LF Seth Smith (.284/.366/.466 (in just 116 at bats))
Smith is 26 and debuted in 2007.  The Rockies selected him the second round of the 2004 draft out of the University of Mississippi.  He has limited playing time but he put up an .885 OPS in the minors.   He will probably be another productive bat in the Rockies lineup.  Smith may soften the loss of Holliday.
Pitcher
*Russ thinks Barmes and Smith could be interchangeable, given Barmes inability to get on base he would probably be better suited for the eight spot.
According to Baseball Think Factory's lineup analysis this lineup projects to put up 5.215 runs per game or 845 runs next season.  If properly configured it could score 5.538 runs a game or 897 runs next year or if Dustballs put it together it would only score 4.922 runs a game or 797 runs next season.  It is a very powerful lineup, if I weren't lazy I would do home road splits, but who has the time?  I used Aaron Cooks line for the pitcher.
Every player projected to start for the Rockies was drafted by the Rockies.  I think that is impressive.  Also all of these guys, accept for Atkins, were drafted out of college, Billy Beane is probably nervous that other teams may be catching on. 
Rotation (W-L, ERA, ERA+)
Aaron Cook RHP (52-44, 4.36, 110)           
Cook is 30 years old and debuted in 2002.  The Rockies drafted him in the second round of the 1997 draft out of my al ma mater Hamilton High School.  His mom was a secretary in my Dad's office.   Cook has done the impossible in Colorado; he has put up long term success.  He has put up an ERA+ over 100 in six out of his seven seasons, but has only reached 200 innings twice. 
He suffered a scary moment in 2004  he left a game against the Reds early due to a blood clot in his lung.  He missed the rest of 2004 and a portion of 2005.  He may be a young thirty as he has only logged 929.67 innings in his career.  I look for him to continue to put up good numbers.
Ubaldo Jimenez RHP (16-16, 4.06, 115 in just 288.3 innings)
Jimenez is 25, and debuted in 2006.  The Rockies signed Jimenez as an amateur free agent in 2001.  Jimenez put up a solid sophomore season last year going 12-12 in 34 starts, compiling 198 innings, with a 3.99 ERA and an ERA+ of 115.  He is a young hard throwing guy, who if he can stay healthy may have a nice career ahead of him as a top of the rotation pitcher.
Jason Marquis RHP (79-70, 4.55, 96)
Marquis is 31 and made his debut for Atlanta in 2000.  The Braves selected Marquis in the first round (35th overall) of the 1996 draft.  Marquis can be a very frustrating pitcher.  He has made negative comments about both Leo Mazone and pitching witch Dave Duncan.  It seems like he wears out his welcome were ever he goes. 
I know stats people hate to hear that players are "inconsistent" but I can't figure out any other way to describe Marquis.  It seems like he has the ability to be a number 2 or 3 pitcher but just can't keep it together from one season to the next.  His ERA+ is at its lowest in his last year with a team, with Atlanta in 2001 over the course of 129.3 innings he put up an ERA+ of 128, but with the Braves in 2003 (he only pitched 40.67 innings with the Braves spending the rest of his season in Richmond), his ERA+ was 77, but it jumped up to 115 with St. Louis in 2004, also with St. Louis in 2006 it dropped to 74, with the Cubs in 2007 it was 101, but to take a little air out of my argument it was 99 in 2008 in Chicago. 
The Rockies could get league average, a high level starter, or a bad pitcher with Marquis, he is pretty volatile and teams should have a backup plan.
Jorge de la Rosa LHP (25-31, 5.55, 83)
De la Rosa is twenty eight years old, and debuted in 2004.  The Diamondbacks signed de la Rosa as an amateur free agent in 1998.  He has never spent an entire season in a big league rotation.  2008 was a career year for la Rosa he tied a career high and pitched 130 and 23 starts, and had a career high; 10 wins, 1.462 WHIP, and 128 K's.  There is little to be excited about with de la Rosa, as he is a below average pitcher, and probably should not be in a big league rotation.
Franklin Morales LHP (4-4, 4.71, 103)
Morales is just 23 years old, and debuted in 2007.  The Rockies signed him as an amateur free agent in 2002.  He has done little positive or negative in the Major's having logged just 64.67 innings over 13 starts, and his minor league numbers are nothing special, and include an ERA of 4.38 and a WHIP of 1.51 (OUCH), but he has struck out 545 batters in 538.3 innings, while walking 316 hitters (another OUCH). 
Moarales 2008 in AAA does little to help my confidence in him.  In 110.3 innings he struck out 83 batters, while waling 82 batters, and put up an ERA of 5.47 and a WHIP of 1.72.
He is a hard throwing young lefty, and from looking over his stats he seems to be a guy stats minded people hate but scouts love.  He is the anti-thesis to Matt Maloney, who in 522.67 minor league innings has struck out 534 batters, but only walked 120, and has a WHIP of 1.20, and an ERA of 3.38, but Maloney is a soft tossing lefty and is not as trusted by "baseball men".   
I predict Morales will bounce around the big leagues as long as he has a blazing fastball, and scouts and GM's will be enamored by his blazing fastball and think "we can fix him".  He will have a few flashes of brilliance, and if he is lucky ends up being able to harness his control enough to be a useful piece in a bullpen, but I doubt it.  There are so many red flags on this guy it isn't even funny. 
The fifth spot is still up for grabs between Morales, Greg Reynolds, and Greg Smith, but Smith is lagging behind the other two due to illness.  The rotation is in a bit of flux with Jeff Francis expected to miss all of 2009 due to shoulder surgery.  Greg Smith seems like the best candidate to take the job, but illness may knock him out of competition.
Bullpen:
Closer: Manny Corpas and Huston Street will be splitting the closer and setup duties.  Corpas lost his job to Fuentes last season.  Street struggled with Oakland last season and lost his job, and has shown little in spring training this year.  These two could regain their form and be an 8th/9th inning tandem to reckon with, or they may both suck terribly and prove that relief pitchers are very volatile commodities.
Taylor Buchholz, brother of Clay, is also in the Colorado bullpen.  He is injured right now, but he could hold the closers role if Corpas and Street struggle.  Buchholz put up a WHIP of .95 last season over 66.3 innings. 
Jimmy Haynes All-Star
Josh Fogg-He hoodwinked the Reds to give him $1M after he went 10-9 over 165 innings with Colorado in 2007, but he was the "Dragon Slayer", and was a "clutch pitcher".  I guess the Reds didn't play good enough teams last year for the "clutchiness" to come of the Fogg.  He was in the mix for the 5th spot, but there has been little mention of him by any of the previews I read about the Rockies.  They also have former Red Matt Belisle who I was very high on and made me look a fool.
Bottom Line:  As for par the Rockies have a good offense and not so good pitching.  The rotation has no proven pitcher after Cook.  Jimenez has only logged 288 big league innings, Marquis is a thrill a minute, de la Rosa ought to be pitching in the International or Pacific League, and they have no proven pitcher for the 5th spot.  The bullpen is also riddled with question marks.  The team looks like some of the Reds teams over the last 7 years or so. 
The Rockies do not seem to be nearly as good at developing pitchers as they are at developing hitters.  I am not sure if the organization's philosophy is to draft hitters over pitchers because of their ballpark, or if they are just bad at selecting pitchers, but the difference between their offense and pitching is huge.