I'm sure some of you are watching/have watched the Clemens interrogation. Use this diary to express your feelings on the testimony.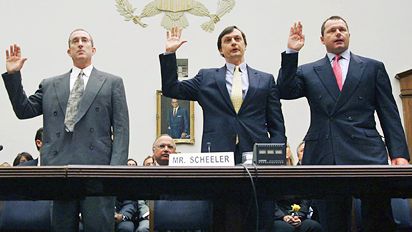 I was pro-McNamee coming into today, and nothing I've seen changes that. I don't think today was devastating re:Clemens, but I don't really think he did anything to change my mind. I don't like the fact that he coached the nanny before handing her over to the committee. However, I have no reason not to believe Jose Canseco, and if he says Roger wasn't at the steroids party, Roger wasn't at the steroids party.
I think Roger's wife is full of shit. First of all, she's in the gym every day, she's a body-builder type, and she knew exactly what HGH was before she was injected by McNamee. Roger's statement from her soured me on his camp. This whole victim act they're throwing out, including that they didn't know what HGH was or that he didn't know why he took B12 but he thought it was "good not bad", is bullshit. He's a professional athlete, his body is his temple, he knows exactly what all that shit is.
Re: McNamee lying at first about who had used steroids, of course he did. Why wouldn't he? There is obviously an atmosphere in baseball that you lie first, tell your friends later and hope your friends lie for you. Almost no one since this whole thing began has been honest with the government, and it doesn't surprise me that McNamee tried to protect the players at first.
Roger's lawyers are tools.
Pettitte has been caught in a lie, and it turns out he didn't just use HGH once and quit it. He's a big fat phony. But he and his wife ratted Roger out, and Roger's claim that they misunderstood him is pretty far-fetched. They're not stupid -- they know the difference between Roger and his wife. Also, his explanation contradicts the statement made by his wife during the proceedings.
I don't have any proof that McNamee is telling the truth and Roger is lying, but that conclusion still makes the most sense to me.