No, not really....
So I went and saw the Bats play the Durham Bulls on Friday and Saturday Night. Fellow Red Reporter Gray joined Braves Fan Kurt and me on Friday night for Hobbs' first professional appearance in front of the home folks. On Saturday, I went with a larger group to watch HIM pitch. I have lots of thoughts from the two nights and a few pics (I'm terrible with cameras--fair warning). It was a busy weekend in Reds fandom. Hobbs tearing through town (You haven't lived until you've seen the JumboTron flash  "SLG%: 1.182"), The Java Man, Marcus McBeth napping in the dugout like a condemned man, HIM, Joey Votto, the Team Lassie, and the ever comatose Mark Bellhorn. Go here for the first installment of Hobbs And for my diary of Homer's start go here.
Up last: uh...stuff...stuff about stuff?
As I said I was really glad to see a large amount of red in the stands on Friday and Saturday. A good bit of it was NC State gear, though. I kept approaching peeps with Red caps ready to talk 'Nati baseball, only to hear: "Mooooooo" This kid in the picture was waving his cap at Anderson Machado. I'm not quite sure what he was trying to achieve. I asked his dad why Mark Bellhorn was catching. First stupid question of many that I asked. Ryan Jorgensen looks a hell of a lot like Mark Bellhorn.  
Here's the real article, however. I've been fascinated by Bellhorn for a long time. I have a vague memory of him as an Auburn Tiger; as a guy who could flat out rake. But he has one of the greatest "I don't give a fuck" demeanors in baseball. Garrett Anderson is the other who springs immediately to mind. In any case, Bellhorn scuffles, a lot. I'd like to watch him order a burger at Wendy's or something to see if his indifference carries over to everyday life. I imagine there would be much spitting of sunflower seeds and blinking. Braves Fan Kurt (also an Auburn fan) made the point that Bellhorn seems like the kind of player who will hit .260 at every level, from the majors to A ball to girl's machine pitch. I managed to catch him in a rare moment of animation. Someone in the stands was yelling at him. I'll take your suggestions as to what one might yell at mark Bellhorn.
Here's Joey Votto (rhymes with Quatto). He made 2 spectacular digs at first base on Saturday. I only mention that because his defense has been questioned. I thought he looked solid. Tigrmetrics.
Here's Toddy Coffey in a concrete bunker with Ted Power. The kid in the red shirt is Gray's illegitimate son he had with a crazy stripper. Just kidding. They had a daughter. Coffey pitched well both nights. He certainly doesn't seem to have trouble getting AAA players out. On Friday night we were obviously sitting in front of some of Todd's family, which I realized only after he came into the game. Would have been nice to know that before I yelled to Gray that Todd Coffey's fat ass was warming up in the pen. Todd's from Rutherfordton, North Carolina...take ya shirt off, twirl it 'round ya head like a helicopter.
It's been said many times, but I'll say it again here. The best thing about minor league baseball is the absolute circus that goes on between innings. On Friday night, a magician did these tricks in which he changed what his assistant was wearing using colored bedsheets. She was really hot; that's Joey Votto and Team Lassie oggling her. The trick was awesome, if repetitive, and performed to Jimi Hendrix's "Fire." If you're a schlock magician, I'd think you'd have to go with "Final Countdown" at this point, but the first 20 seconds of "Fire" still gets you pumped up for some sleight of hand.
I'm sick that I didn't get a picture of the act on Saturday night. It was a group of kids who performed this hybrid martial arts/techno dance thing. The White Tigers. We couldn't figure out which was the more important discipline for them. From their website it seems like they're sort of serious about martial arts. In any case, there was a little blond girl--couldn't have been more than 6--pretending to attack a gangly bespectacled teenager about 5 feet from where Joey Votto was fielding throws from Pedro Lopez, all this to the sound of Cher's "Do You Believe in Love." Yes, Cher, I do believe in a thing called love. Just listen to the rhythm of my heart; it's beating like a drum(mer). She fell in love with the drummer.
I suspected that McBeth might be shipped on Saturday because the Bats failed to use him in a close game on Friday night. Instead, they put in a right-hander who was basically throwing lobster bisque up there. Wes Bankston AKA "Wankston" hit a walk-off shot and that was that.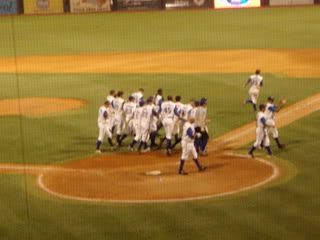 LaRucifer Jersey. Parents sitting behind me were thrilled with this. Thanks, Mom.
I got a shot of this plaque for yall. Bracing stuff, right? I tried to do some research to find what Reds greats passed through the system in DurhamDurham. I couldn't find much reliable info, but I'm almost positive that Johnny Vander Meer played in Durham in 1936, along with All-Name teamers Double Joe Dwyer, Pinky Jorgensen, and Jimmy Outlaw. These were good years for the Reds as you know: World Series appearance in 1939 against the hated Yankees and WS win in 1940. Joe Morgan also played for the Durham Bulls in 1963 in the Houston system. In 95 games he hit .332 and slugged .528. There isn't an OBP stat for him, but you've gotta figure he was OPSing in the neighborhood of 900. He hit 20 doubles, 13 jacks and knocked in 43. Not shabby, though, as we all know, you can't use stats to compare anything anyway. You can still buy a #18 Joe Morgan jersey at the DBAP shop, btw. Norm Charlton also spent some time with the Bulls.
For all you Bull Durham lovers (not me), here's a tribute to Lawrence "Crash" Davis. Here's Davis's wiki. This is actually in the men's room. Fun fact: Dudes don't like it when you whip out a camera in the men's room. The DBAP has planted all sorts of potential social minefields in its men's room. They do have sports pages mounted, but staggered in between the urinals rather than directly above them. So, in order to read the page you have to be looking to your right or left. Dudes aren't really into that, either. Obviously, I don't have a problem with it, BubbaFan, but they don't put up the Style section, so who cares anyway.
I have a reputation as something of a beer neanderthal. After Friday's game, Gray, Braves Fan Kurt, and I went to Tyler's across the street. Gray took some time out from hitting on strippers to buy me a Canadien beer called La Fin du Monde, which I guess means something like "the edge of the world." It was very complicated, but a refreshing summer beer. My silly criterion for beer: Could I drink 15 of these tonight? La Fin du Monde: no. Good stuff though.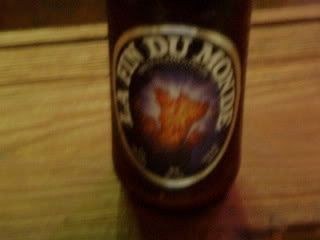 Picture book memories. Mims' "This is why I'm hot" was playing. This is why I'm fly; you ain't cause you're not: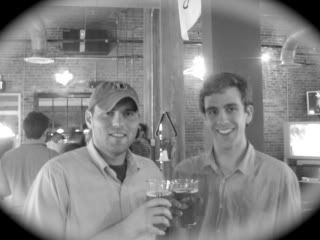 I backslid on Saturday to 24 cold ounces of Pabst Blue Ribbon. Backsliding never tasted so much like getting drunk. Except the all the other times.
We took a marker and some leftover deskcopy order forms to make signs for one another. My friend Erin was apoplectic about the ashnarronlovechild thing. She held it up as I tried to explain. I stopped when the look of shock overtook her: "I had no idea what a complete dork you are!" Erin will not be running away with me to Mexico. ashnarronlovechild.